We purchase or download therapy materials, fully expecting them to work for us. However, sometimes the material/activity does not work out due to the client interest, the game may not be age appropriate, be boring, or does not address the intended area.
Sometimes the games themselves are flawed.  The package and title may seem to be just perfect but the game has serious issues. Here are three examples of recent purchases that did not live up to my expectations.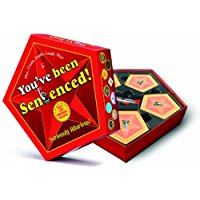 You've been Sentenced sounds like the perfect game for targeting syntax and semantics, no?  After giving this game 2 or three tries during sessions, I've accepted that the rules of play are simply flawed.  It is a painstaking process to create sentences.  Playing this game for 20 minutes is painful for all parties involved.  The solution is simple though: utilize these cards for different activities.  Use it to teach syntax in other ways.

Elephant Trunks looks like a darling game for use with preschoolers.  I envisioned hour happily spent sorting and classifying clothing into suitcases as we worked on many different language goals.  Alas, the game is disappointing.  Each player takes 6  matching tokens and spins the die to see which suitcase to place it in.  It can be good for teaching colors and basic labeling but has little other use.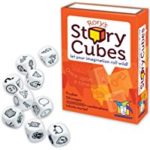 ,
Lastly, we come to Rory's story cubes.  We have said it before and we will say it again.  These cubes do not elicit much speech or conversation from the players.  The pictures are obscure and result in silly nonsensical sentences or stories with little structure present.  A well-marketed but poorly designed product!
If you have any other games that you would like to share with us then please comment below!